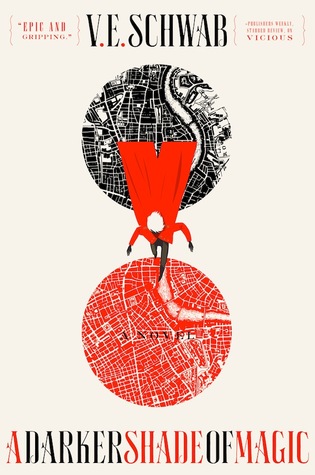 At A Glance

Genre:
Young Adult; Fantasy
Love Triangle/Insta Love?:
No :D
Cliff Hanger:
nope
Rating:
5 STARS!
Score Sheet
All out of ten

Cover:
9
Plot:
9
Characters:
10
World Building:
9
Flow:
10
Series Congruity:
n/a
Writing:
9
Total:
9.5
In Depth

Best Part:
Lila's sass!
Worst Part:
It ended!!! How dare it end!!
Overall Feels Felt:
Love this already; YES!; Sass queen in the house; Take that you B!
Conclusion

Continuing the Series:
YESSSSSS
Recommending:
YESSSSSSSSS
Misc.:
Trigger Warning; there is a rape scene they talk about.
Short Review:
This is by far my favorite read so far this year! I loved every minute of this story. The different worlds were great, explained well. I could imagine everything that was being explained. I loved the two MCs. Lila is amazing, i loved her so much. She is sassy and strong willed and independent. A great role model. Kell is a stubborn, loving person with some pain in his life. I do hope there is a bit of romance, note; not a lot of romance, just a hint!!!!!!! I highly recommend this to everyone, it's a great fantasy with great characters.
Review In GIF Form