Thursday Throw Down

is an original feature created here at booklife4life. I created this feature because it seems with everything book related, there's always two ways to see it :)
Each week I will provide two "contenders" and you will decide the winner :) Write a post supporting your choice and link it back to here and add yourself to the Link-In so everyone can see! If you don't have time to create a post, just place your vote in the comment section! :)
I will "tally" up the votes and announce the winner along with a randomly selected blog post supporting that winner on the following TTD.
I guess i'll keep doing this. Rome wasn't built in a day so i'll keep at it til something happens :)
In corner #1 we have....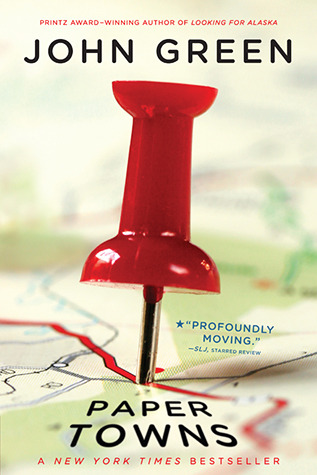 Short Bio:
Quentin Jacobsen has spent a lifetime loving the magnificently adventurous Margo Roth Spiegelman from afar. So when she cracks open a window and climbs into his life—dressed like a ninja and summoning him for an ingenious campaign of revenge—he follows. After their all-nighter ends, and a new day breaks, Q arrives at school to discover that Margo, always an enigma, has now become a mystery. But Q soon learns that there are clues—and they're for him. Urged down a disconnected path, the closer he gets, the less Q sees the girl he thought he knew...
Short Bio:
Despite the tumor-shrinking medical miracle that has bought her a few years, Hazel has never been anything but terminal, her final chapter inscribed upon diagnosis. But when a gorgeous plot twist named Augustus Waters suddenly appears at Cancer Kid Support Group, Hazel's story is about to be completely rewritten.
If you could only recommend one of the above books, which would you pick?? :D
You can either leave your pick in the comments, or create a post on your blog and link it back!
Jessica @ Ramblings on Reading choose Team Adam and posted this as evidence:
This week is a battle that has raged since the Shatter Me series by Tahereh Mafi was first published:
Adam vs. Warner
Now, I'll be honest, I haven't read the
final book in this series, partly because I found out how this particular love triangle ends up. So this is based on the first two books. And I am FIRMLY:
Warner does some really terrible things to Juliet, and I don't know how everyone just kind of got over that. Adam, while I've heard kind of goes crazy in the last book, spends the first two books loving Juliet and trying to take care of her and protect her from Warner. So there's really no competition here.
I whole heartily agree with her! Warner almost killed her!!