A Is For Alibi
by
Sue Grafton
My rating:
3 of 5 stars
Find this review, plus more, on my blog: Booklikes OR Blogger
Basic Info

Format:
Audio
Pages/Length:
Like 5hrs
Genre:
Mystery
Reason For Reading:
I like the series.
At A Glance

Love Triangle/Insta Love/Obsession?:
No
Cliff Hanger:
No
Triggers:
n/a
Rating:
2.5 stars
Score Sheet
All out of tenCover:
6
Plot:
6
Characters:
6
World Building:
5
Flow:
6
Series Congruity:
n/a
Writing:
6
Ending:
6
Total:
6
In Depth

Best Part:
Fresh look on Kinsey!
Worst Part:
Not as awesome.
Thoughts Had:
I can't hold this against you
Conclusion

Continuing the Series:
Yes
Recommending:
Yes
Short Review:
If you haven't figured it out yet, you can read these out of order and it's fine :) So after reading a few near the end of this series before reading the first, i can say with a sound mind, try to read the first one first, then you can just have at the series. It's not that you'll be confused, it's you'll be disappointed, like i was. It was okay, it had the same elements as the others; small other crime on the side, random jogging, Quarter Pounder is mention (which is the author getting money to write that in every book, because she has one in EVERY book), Kinsey almost falls in love but remembers she words better alone; but it's lacking the good, idk the right work, essence that is the other books. It's an okay book, but try to read this sooner than later.
Misc.
Book Boyfriend:
Pass.
Best Friend Material:
Kinsey!
Review in GIF Form: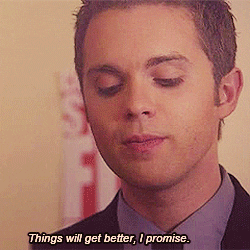 View all my reviews