Living Dead in Dallas
by
Charlaine Harris
My rating:
4 of 5 stars
Find this review, plus more, on my blog: Booklikes OR Blogger
Basic Info

Format:
Kindle.
Pages/Length:
n/a
Genre:
Vampire; Fantasy; Werewolves
Reason For Reading:
Continue series
At A Glance

Love Triangle/Insta Love/Obsession?:
Slight triangle.
Cliff Hanger:
No
Triggers:
n/a
Rating:
3.5 stars
Score Sheet
All out of tenCover:
7
Plot:
7
Characters:
6
World Building:
7
Flow:
8
Series Congruity:
8
Writing:
7
Ending:
7
Total:
7
In Depth

Best Part:
Eric's orgy clothes
Worst Part:
Sookie feeling self entitled.
Thoughts Had:
Meh. I need pictures.
Conclusion

Continuing the Series:
Yes
Recommending:
Yes
Short Review:
First, the whole orgy party, hardest thing i have ever had to read. Just saying. Sookie making demands of the vampires makes me a bit mad, like what right do you have to make them promise not to hurt the humans who freaking betrayed them, it's none of your concern how they dealt with him nor the outcome. Sheesh. Geoffrey in the end crushed my soul. Him wanting to meet the sun to atone for his sins, deep shit there, but really he had turned over a new leaf and i wish he had realized that.
Misc.
Book Boyfriend:
Eric
Best Friend Material:
Pass.
Review in GIF Form: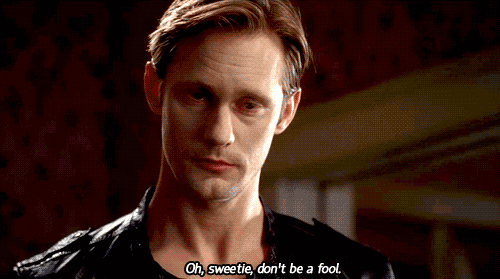 View all my reviews