Told you it was coming soon! :D
CHOICE #1
The Shadow Prince
Into the Dark #1
Bree Despain
Bio:
Haden Lord, the disgraced prince of the Underrealm, has been sent to the mortal world to entice a girl into returning with him to the land of the dead. Posing as a student at Olympus Hills High—a haven for children of the rich and famous—Haden must single out the one girl rumored to be able to restore immortality to his race.

Daphne Raines has dreams much bigger than her tiny southern Utah town, so when her rock star dad suddenly reappears, offering her full tuition to Olympus Hills High's prestigious music program, she sees an opportunity to catch the break she needs to make it as a singer. But upon moving into her estranged father's mansion in California, and attending her glamorous new school, Daphne soon realizes she isn't the only student in Olympus who doesn't quite belong.

Haden and Daphne—destined for each other—know nothing of the true stakes their fated courtship entails. As war between the gods brews, the teenagers' lives collide. But Daphne won't be wooed easily and when it seems their prophesied link could happen, Haden realizes something he never intended—he's fallen in love. Now to save themselves, Haden and Daphne must rewrite their destinies. But as their destinies change, so do the fates of both their worlds.
CHOICE #2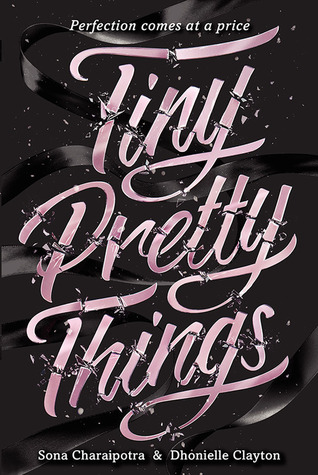 Tiny Pretty Things
Tiny Pretty Things #1
Sona Charaipotra and Dhonielle Clayton
Bio:
Gigi, Bette, and June, three top students at an exclusive Manhattan ballet school, have seen their fair share of drama. Free-spirited new girl Gigi just wants to dance—but the very act might kill her. Privileged New Yorker Bette's desire to escape the shadow of her ballet star sister brings out a dangerous edge in her. And perfectionist June needs to land a lead role this year or her controlling mother will put an end to her dancing dreams forever. When every dancer is both friend and foe, the girls will sacrifice, manipulate, and backstab to be the best of the best.
CHOICE #3
The Start of Me and You
Emery Lord
Bio:
It's been a year since it happened—when Paige Hancock's first boyfriend died in an accident. After shutting out the world for two years, Paige is finally ready for a second chance at high school . . . and she has a plan. First: Get her old crush, Ryan Chase, to date her—the perfect way to convince everyone she's back to normal. Next: Join a club—simple, it's high school after all. But when Ryan's sweet, nerdy cousin, Max, moves to town and recruits Paige for the Quiz Bowl team (of all things!) her perfect plan is thrown for a serious loop. Will Paige be able to face her fears and finally open herself up to the life she was meant to live?
Here is the link to the GR poll: POLL
If we aren't friends on GR (which would be horrible), you can find me HERE